About Us
Wild Rivers Pilates & Fitness
(541) 425 5136
BOX 807
Gold Beach, Or  97444
Mission Statement
Wild Rivers Pilates core mission is to provide the absolute best "one on one" fitness and post-rehabilitation therapy possible, while maintaining the integrity set forth by Joseph H. Pilates. In our private, relaxing calm and quiet state of the art facility.
Goals and values:
• For our post-rehabilitation clients, we provide personalized sessions to further your post-rehab recovery. Using the "classical style" Pilates based on hours of rigorous training from The Pilates Studio New York ™ founded by Joseph H. Pilates. We also provide TRX and ROM (Range Of Motion cardio) to round out our clients needs for a healthy active lifestyle.
• Purposely keeping our class size small we can maintain the "one on one" atmosphere our clients expect and deserve. We limit our group classes to a size of 4-6. We only offer Mat classes in a time that will not detract from our "one on one" work outs.
(All group classes are currently on hold Due to Covid-19. Please contact us about our online Skype classes)
• Wild Rivers Pilates & Fitness in Gold Beach Oregon, is locally owned and operated, furthermore the Wild Rivers Pilates & Fitness staff is carefully screened and professionally trained and certified. Covered by our workers compensation insurance and motivated by the clientele's needs.
•  Classical Pilates workout routine is custom tailored for the client by the studios master trainer Kristen Williams
---
About our staff: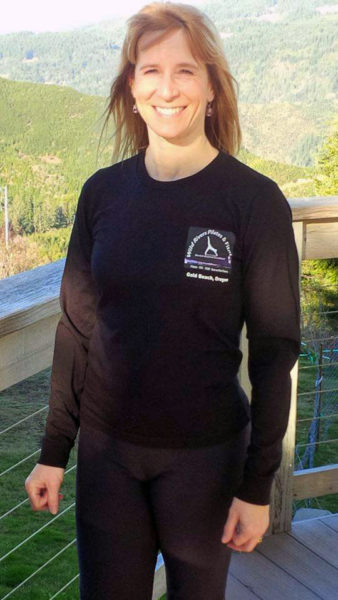 Kristen Williams was classically trained as a  ballet dancer and was awarded a scholarship to the Boston Conservatory of Music. After college she was off to New York City to continue dancing at Alvin Ailey School of Dance. Kristen's dancing career took her all over the world performing many Broadway shows such as Song and Dance, Oklahoma, Jesus Christ Superstar and even Dirty Dancing.  After injuring her hamstring while performing Kristen was introduced to Pilates and found it more effective than traditional physical therapy.   A few years later Kristen suffered two very serious strokes!  Again, Kristen used Pilates for her own rehabilitation.  It was this life altering event that led Kristen to share how Pilates helped her through this devastating injury and teach others how it can help them as well. Kristen and her husband Matt Williams opened Creative Fitness in 1998.  In 2001 Creative Fitness became the Santa Barbara Pilates Studio and moved to De la Vina Street in Santa Barbara California. Early 2014 Kristen relocated to Gold Beach Oregon and is now operating Wild Rivers Pilates & Fitness offering world class Pilates on the Oregon South Coast.
Kristen's training has derived from many instructors,  however her primary Pilates instruction comes from The Pilates Studio New York with Bob Liekens & Romana Kryzanowska. Furthermore Kristen's extensive background in Dance gives her a unique insight into the workings of the human body from a strength and agility perspective. Kristen's clients range from 15 yrs old to 97 yrs young! She has worked with professional dancers and athletes and those recovering from knee, shoulder, back and neck injuries, Scoliosis, and Cancer recovery. She has been creating custom workouts for all her clients for the past 17+ years.
---