Rehabilitation and Pilates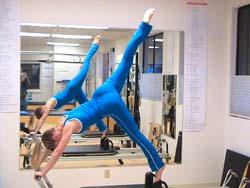 source: Balanced Body Rehabilitation.
Rehabilitation
Pilates for Rehabilitation
Pilates, an exercise regimen first developed for rehabilitation in the early 20th century (see Origins), has become a powerful rehab tool with significant benefits for your patients and your practice.
Its focus on movement and breathing brings you new and effective treatment methods. It's also extremely versatile – the extensive exercise repertoire can be modified to fit the needs of each patient. In addition, Pilates has become an independent revenue source for many rehabilitation and wellness centers.
The Pilates principle of core stabilization addresses posture, muscle performance and motor control – the same concepts that form the basis of most orthopedic rehabilitation and therapy. Physical therapists are using Pilates successfully to treat many common conditions and diseases, including:
Chronic neck and back pain
Sciatica
Shoulder impingement/tendonitis
Hip bursitis
Ankle injuries
Total knee/hip replacements
Multiple Sclerosis
Parkinson's Disease
Fibromyalgia
Scoliosis
Please visit our Library for a growing list of publications relating to the use of Pilates in rehab and physical therapy, dance medicine and sports medicine. Some full articles are available for download.
Balanced Body has nearly 30 years of experience creating specialized Pilates equipment for rehabilitation. Our equipment is used by major hospitals, universities, dance centers, rehabilitation clinics, wellness centers and private practitioners worldwide.
Our Clinical Reformer is the #1 choice of rehabilitation practitioners. For more than two decades, we have worked with Pilates rehab specialists to develop the features that make our Clinical Reformer a versatile, practical and safe rehabilitation tool.
"For therapists who offer quality Pilates programs and market them effectively, the future is promising. Patients and clients gain the benefits of strength, flexibility and balance, while the practice can look forward to sustained growth and profitability."
-Advance for Directors of Rehabilitation magazine, March 2005
"I'm a lineman for a power company and I tore and herniated two discs in my lower back. My back surgeon told me that if had surgery to fix the discs it would likely end my career. I was barely able to move and unable to work for seven months. My doctor suggested Pilates, and in May I began rehab sessions with Chrissy Romani-Ruby at PHI Pilates using Balanced Body equipment. Within four days of starting Pilates I felt relief in my lower back. Within a week and a half I was virtually pain free. Within two months I was back at work."
Dennis McLaughlin, Bethel Park, PA
"I have found the Balanced Body Studio Reformer to be a great tool in the prevention and rehabilitation for groin and hip injuries over the years…The Reformer allows our players to work the hip and groin muscles through the full range of motion, at a controlled speed, with low impact and progressive resistance. …With a regular reformer program, and exercises on other apparatus attempting to mimic the challenges of the reformer, we have gone three full seasons without time lost to aggravated groin strains. Of course the Reformer is also a great device for core strengthening and we look forward to implementing full programs with our players in the upcoming season. Thanks for providing the health care, sports and fitness community with such an excellent and versatile product."
André Deloya, MS, PT, CSCS
Director of Rehabilitation, Minnesota Timberwolves/Lynx